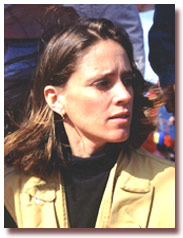 Abigail Alling has been actively engaged in marine, environmental and closed system research and development projects for the past 23 years. Presently, she is co-founder and CEO of Biosphere Foundation and its division, the Planetary Coral Reef Foundation (PCRF), a non-profit corporation dedicated to the study of Earth's coral reef ecosystems.
As CEO of Biosphere Foundation, Ms. Alling heads up its design and the development of a manned Mars Base Mission simulation project called "Mars on Earth."
From 1991-1993, Ms. Alling was one of the eight "biospherians" to live for two years inside Biosphere 2, a 3.15 acre Laboratory for Global Ecology. Inside Biosphere 2, she served as the Scientific Chief for over sixty research projects.
After the successful completion of the two year closure, she became the Assistant Vice-President for Biospheric Development. From 1986 to 1994, Ms. Alling was also the Director of Marine Ecological Systems at Biosphere 2, where she created and operated the largest artificial ecological marine system, a 1,000,000 gallon mangrove marsh and ocean coral reef.
Previously, Ms. Alling was the Expedition Chief on the RV Heraclitus for the "Circumnavigation of South America" Expedition, which included a six-week voyage to the Antarctic Peninsula to study humpback whale population genetics in collaboration with the National Cancer Research Institute. In 1985, she served as the marine biologist supervising the historic first successful release of two captive bottlenose dolphins back to the wild. Additionally, she has been the recipient of numerous grants to conduct cetacean research in the world's oceans under the auspices of a variety of organizations, including: the World Wildlife Fund, United Nations, Tides Foundation, Institute of Ecotechnics and Marine Mammal Commission.
Abigail Alling is a Fellow of both the Linnean Society (UK) and the Explorers Club. She also serves as a Committee Member of the Paris-based, Espace Mer.
Many documentaries featuring her work have been broadcasted around the world. These include: Buddha and the Biosphere for Vis a Vis French Television and The Coral Dance for Asahi Japan and Canal + French Television. PCRF's work on coral reefs aboard the RV Heraclitus was featured in a three part National Geographic Asia television program.
She graduated cum laude from Middlebury College where she received her BA degree in Biology, and also received an MS degree in Environmental Studies, cum laude from Yale University.