The Psychedelic Society UK Presents An Evening with Lama Mike Crowley, Author of Secret Drugs of Buddhism 
The Psychedelic Society UK will be hosting a talk together with Synergetic Press author of Secret Drugs of Buddhism, ordained lama Mike Crowley, on 29th September from 1-3 PM CDT or 7-9 PM UK time.
After over 50 years of study, Mike has amassed incontrovertible evidence that psychedelic plants and fungi were part of medieval Buddhism. This is especially so in the tantric school of Buddhism known as Vajrayana in which a psychedelic sacrament called the "elixir of immortality" (Sanskrit: amṛita) played a central role. This school was based upon scriptures called tantras which concealed their secrets behind multiple levels of meaning. Mike will reveal the simple puns and Sanskrit wordplay which indicate the nature of this "elixir".
More about Mike Crowley
Mike Crowley is originally from Wales but currently lives in a remote cabin in a vast forest in northern California. His book, Secret Drugs of Buddhism: Psychedelic Sacraments and the Origins of the Vajrayana was published recently and he sits on the advisory board of the Psychedelic Sangha of the US. He has been known to teach Buddhism. He is familiar with Sanskrit, Tibetan, and Mandarin Chinese. Mike has lectured at the Museum of Asia and the Pacific, Warsaw, the Jagellonian University, Cracow, The California Institute of Integral Studies, San Francisco, and at the University of Wisconsin-Madison. His work has been published in Fortean Times, Time and Mind: The Journal of Archaeology, Consciousness, and Culture, Psychedelic American, and Psychedelic Press UK.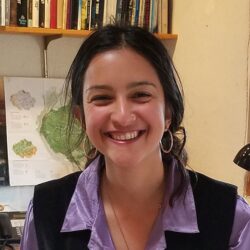 Jasmine is a freelance writer, editor, and proofreader. She did a publishing internship with Synergetic Press in Spring 2018 and has been working remotely for us ever since. She is creative, passionate, and committed to utilizing her literary capabilities in order to contribute to building a sustainable planetary culture and making a meaningful difference in the world. She also serves as a writer for Psychedelics Today, a podcast and online education platform that is dedicated to exploring the healing aspects of non-ordinary states of consciousness and discussing scientific research surrounding psychedelics. Jasmine's goal as an advocate for psychoactive substances is to raise awareness of the socio-historical context in which these substances emerged in order to help integrate them into our modern-day lives in a safe, grounded, and meaningful way.